Great Adventures, Close to Home campaign to support Essex tourism
3rd July 2020
Categories: Latest News
A NEW county-wide campaign to encourage people to support local tourism businesses has been launched by Visit Essex.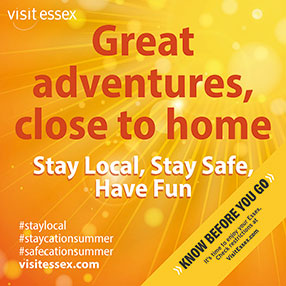 The Great Adventures, Close to Home campaign will support local tourism by encouraging the county's residents to rediscover 'the hidden gems' and popular attractions throughout Essex.
In a bid to help the tourism business - which prior to the Covid-19 pandemic was worth £3.4 billion to the county's economy - Visit Essex is urging people to explore, experience and enjoy Essex by staying local and supporting the many attractions and businesses which are starting to reopen.
The Great Adventures, Close to Home campaign, which is designed to run for eight weeks, will provide inspiration and information on what is open as well as the best times and safest way for people to visit. Visit Essex would advise people to check its website for the latest businesses and facilities which are open and – where possible – to pre-book due to limited capacity at venues and to always adhere to government social distancing guidelines.
The campaign - which will include Visit England's 'We're Good To Go' industry standard, meaning businesses are adhering to government and public health guidance - will also promote attractions and areas for those who want to avoid crowded areas in order to stay safe to help disperse crowds.
With over 2,000 years of history and 350 miles of coastline to explore, making it the second longest in the country, there are many places for people to explore safely that are off the beaten track and away from 'honeypot' areas which are heavily populated and crowded. Visit Essex is also urging everyone to respect the environment by using the rubbish bins available or by taking any litter home with them when they do go out.
Lisa Bone, Strategic Tourism Manager at Visit Essex, stated: "From countryside to coast there are many reasons for people to stay local and plenty of ways for them to create their own Great Adventures, Close to Home. Essex is a fantastic county which manages to combine modern facilities, fascinating towns and villages and ever-changing coastlines to create the perfect day trip or short break.
"It is completely understandable during these unprecedented times that many attractions and destinations had to close, but that is why campaigns such as this are important and, indeed integral, if we are going to encourage the county's residents to help and support local tourism."
-Ends-
Visit Essex is the official tourism organisation and the only body specifically marketing the whole of the county to the visitor market. We work with visitor attractions, leisure/activity providers, accommodation establishments and other tourism related businesses (including the travel trade, media and wider partners), to ensure that the county remains a leading visitor destination.
Lisa Bone