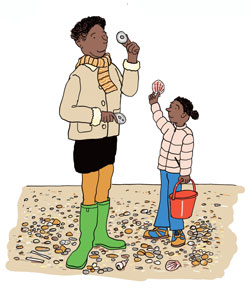 There are 350 miles of Essex coastline and we want to help you enjoy your time getting to know it and to lose yourself in big skies, wide beaches and peaceful landscapes. If you're looking to walk the coastal paths, tidal riverbanks or beaches or just do fun activities with your family, there are loads of new places to discover and things to do all year round.
Here are ten ideas to get you started….
1. Pack light and travel by train - the Mayflower, Sunshine Coast, Southend and Crouch Valley
train lines
will help get you there.
2. Discover a new place - it could be a different beach or riverside town. There's plenty to choose from.
3. Walk the coastal path - take as long as you want, walking at a time and pace that suits you. Walk between train stations or find circular routes that loop back to the station or car park.
4. Tempt your taste buds - there are many cafes, pubs and restaurants all along the Essex coast so you'll never be far from refreshments. Why not try some local produce, maybe oysters in
Mersea
or cockles in
Leigh-on-sea
?
5. Essex from the sea - change your viewpoint and explore by canoe, paddleboard or windsurf. Many local sailing clubs hire out leisure boats or check
here
for sailing lessons in Mersea and Bradwell.
6. Take a boat trip - from Maldon you can tour the River Blackwater taking in Northey and Osea Islands or take one of the small passenger ferries from Harwich, Wivenhoe or Brightlingsea. Check https://www.visitessex.com for details before setting out.
9. Take off your shoes and socks – whatever the weather, feel the grass, sand or water on your feet! A different time of year will have its own smells and sounds and daybreak or sunset look, feel and sound different.
10. Look at the clouds – stratus clouds are flat, cumulus clouds are fluffy, cirrus clouds are wispy, nimbus means it's going to rain.
Related
0 Comments