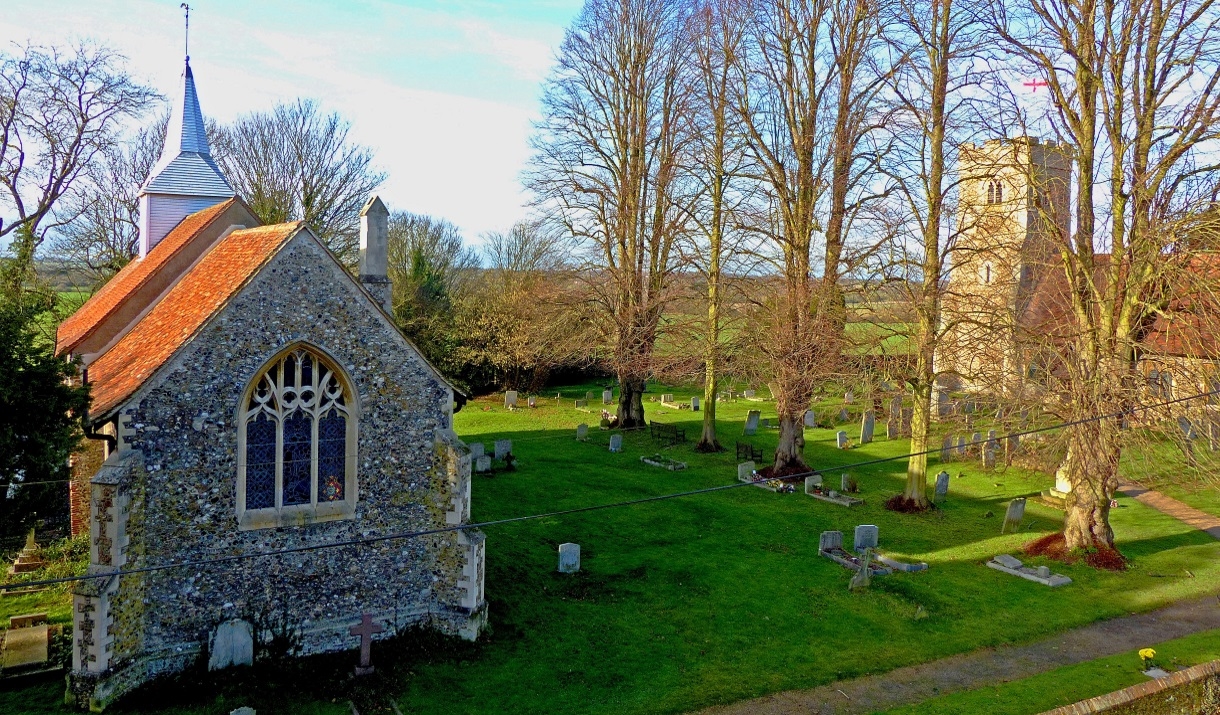 About
The two historic churches of St. Christopher's and St. Andrew's in the rural village of Willingale are unique in Essex, sharing a churchyard that straddles the Essex Way long distance footpath. The churches, with stunning views over the Roding valley, and the picturesque village of Willingale, with cricket green and numerous listed buildings, is the ideal place for a quiet country day out or as a stopping point along the Essex Way. For groups and U3A's talks/guided tours can be arranged.
St. Andrew's is mainly Norman, with traces of reused Roman brick, and has a pretty clapboard bell-turret and porch. The chancel is 15th century as are the belfry timbers, and there is a 14th century octagonal font. Some interesting memorials include two sad inscriptions dated 1614, in memory of children of the Rector. Formerly the parish church of Willingale Spain, St. Andrew's is in the care of the Churches Conservation Trust.
St. Christopher's, formerly the parish church of Willingale Doe, is used for worship and dates from the 14th century but there is evidence in legal papers that a wooden Saxon church was previously on the site. In the middle of the 15th century the west tower and south porch were added. The church was much restored in 1853 when the north aisle was added and the tower and south porch largely rebuilt but retaining their original lines.
The bells of St. Christopher's were restored in 2012 and the exterior masonry restored in 2014.
The churches contain many beautiful and very interesting stained glass windows, brasses and memorials, etc.
Local interest exhibitions are held from time to time in St. Andrew's and there is information on the USAAF 387 Bombardment Group which was stationed at Willingale Airfield during WWII. St. Christopher's welcome visiting bands of bell ringers. For a full guide to St. Christopher's visit our web site - http://willingalevillage.uk/st-christophers-church/

The two churches are historic buildings with steps and some uneven floors, we have a portable access
ramp. Tea/coffee for groups by prior arrangement. Toilet only open by prior arrangement.
This entry is VisitEssex sponsored by Heritage Lottery Fund.
Book Tickets