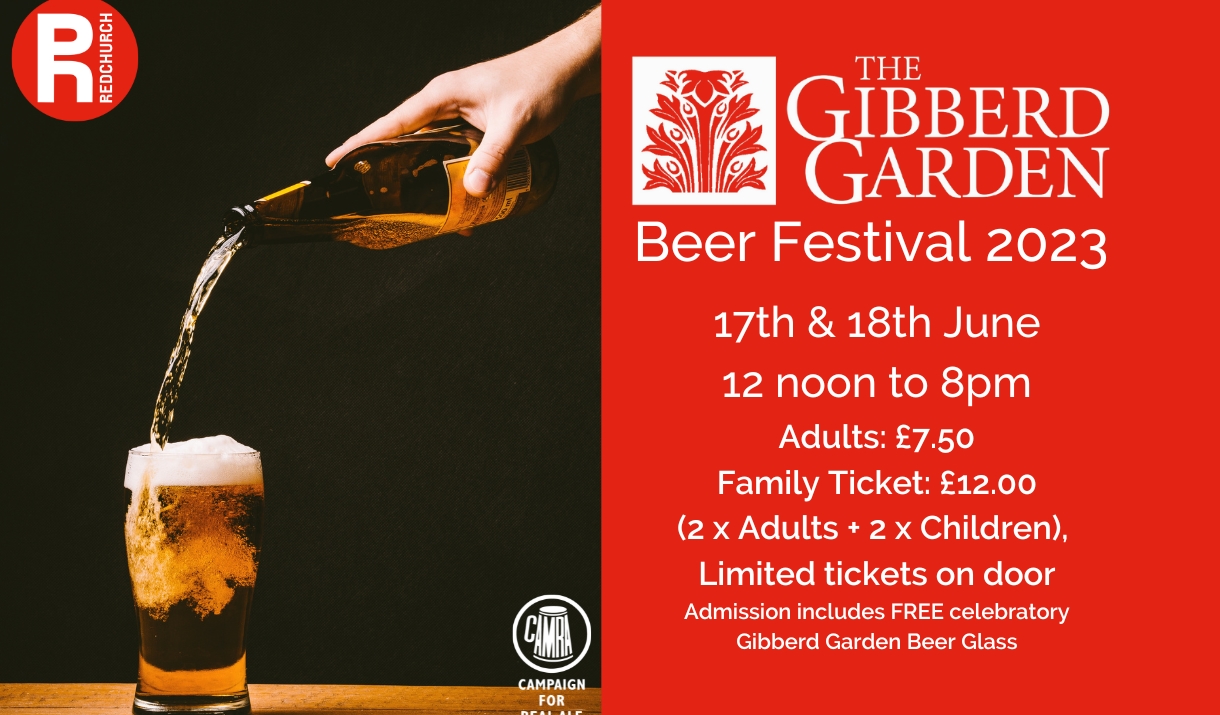 About
The Gibberd Garden Trust presents our 16th Beer Festival and what's proving to be one of our most popular events! Join us for the Gibberd Garden Beer Festival! Come and enjoy a wide variety of delicious craft beers, food and music in a beautiful outdoor setting.
Whether you're a beer connoisseur or just looking for a fun day out, there's something for everyone at this festival. Don't miss out on the fun – BUY your tickets today!
Featuring:
- Redchurch Brewery: Founded in Redchurch Street, Shoreditch, London in 2011. Harlow's Redchurch Brewery is independently owned, SALSA accredited, award winning UK brewery, committed to creating delicious, high quality beers to suit every drinker – For more information TAP: www.redchurch.beer.
- The Rising Sun at High Wych: The Rising Sun Pub in High Wych is a local charming and welcoming establishment offering a traditional English pub experience. They'll be bringing their pop up bar to The Gibberd Garden, offering a full range a wide range of beers, wines and spirits.
- West Essex and East Herts CAMRA (Campaign for Real Ale): The popular UK-based consumer organisation promoting traditional real ale and cider. Our local CAMRA branch will be making their usual appearance at The Gibberd Garden Beer Festival promoting the appreciation and selling real ale and cider.
Details:
Doors open at 12 noon on Saturday 17th June and Sunday 18th June, 2023
Last entry at 7pm (Garden closes 8pm)
Refreshments available until 6pm
Adults £7.50 including FREE celebratory Gibberd Garden Beer Glass
Family Ticket (Available Sunday Only) £12.00 (2 x Adults + 2 x Children), including 2 FREE celebratory Gibberd Garden Beer Glasses
Limited tickets available on the door
Parking FREE
Book Tickets
TripAdvisor
Map & Directions
Road Directions
Directions from M11 (J7)
Take A414 towards Hertford. Go through three roundabouts and turn right at the fourth A1025 and B183 to Hatfield Heath, Brown sign). Continue straight through two more roundabouts, when you will come upon a quarter mile straight road (Gilden Way). At the end of this straight there is a brown sign on the left pointing left to Marsh Lane and the entrance to the Garden.
Directions from M11 (J7A)
Take A1025 towards Harlow. Turn left at the first roundabout. Continue on towards Harlow, past Marsh Lane to the Churchgate Street roundabout and take the left turn off to go around it and return to Marsh Lane. At the end of a straight stretch there is a brown sign on the left pointing left to Marsh Lane and the entrance to the Garden.
Public Transport Directions
Bus service from Harlow Town
There is only one bus service along Gilden Way, the No.59 Harlow/Chelmsford route, which leaves the bus station in Harlow at 15 minutes past the hour, arriving at Marsh Lane approximately half past the hour. The walk from the Marsh lane bus stop to the Garden is approximately half a mile. The return service passes Marsh Lane at approximately 10 minutes to the hour, arriving back at the bus station at about 5 minutes past the hour.