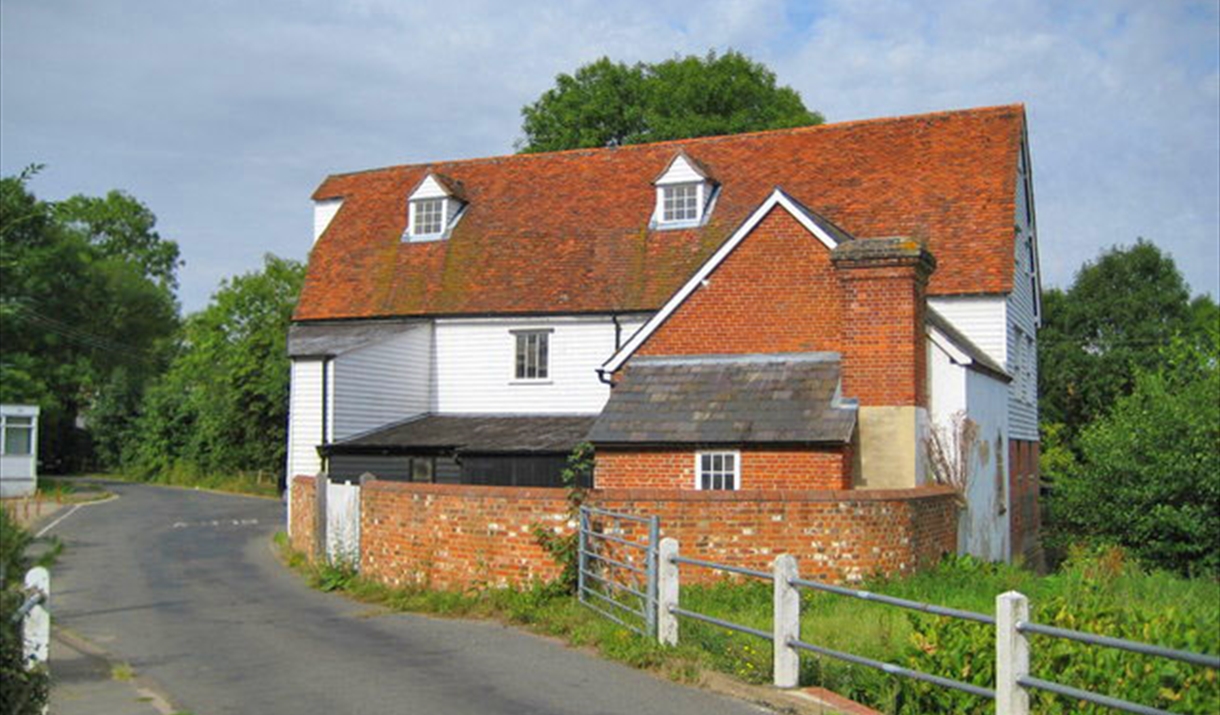 About
This Grade II*-listed timber building is typical of rural water mills and one of the best preserved in Essex. It stands where Alderford Road crosses the River Colne on the east side of Sible Hedingham. It has a breast-shot waterwheel, and three steam-driven and two water-driven millstones, one restored to working order.

The water wheel inside runs on open days when water levels allow.

History
The earliest known reference to a mill on this site dates from 1597. The current mill building is 19th century, with an earlier undershot waterwheel – probably 17th century. The site mainly milled corn until WWII when it began producing animal feed.

The original 18th-century mill had two sets of stones. In around 1850 the mill was altered to incorporate a steam mill, increasing production and offsetting against times when water levels were too low to drive the waterwheel. The mill then boasted three sets of steam-driven stones and two sets of water-driven stones.

Later, the steam engine was replaced with an oil engine and in the 1940s, the mill was electrified. Belt-driven free-standing crushers replaced the engine-driven millstones. These and the water-driven stones continued grinding corn and pulses for animal feed until the mill stopped producing in 1956.

Essex County Council bought the building in 1994 and restored it alongside the Friends of Alderford Mill. The site has been welcoming visitors on open days since 2008.

Classic rural watermill with no facilities but public toilets within 400 metres of the site.
Book Tickets
Guide Prices
No entry charges but voluntary contributions are encouraged.
Map & Directions
Road Directions
Located in Alderford Street, off Swan Street in Sible Hedingham; take A1162 from Halstead. Limited parking in Alderford Street. Parking - Off road near the mill courtesy Forest Homecare.