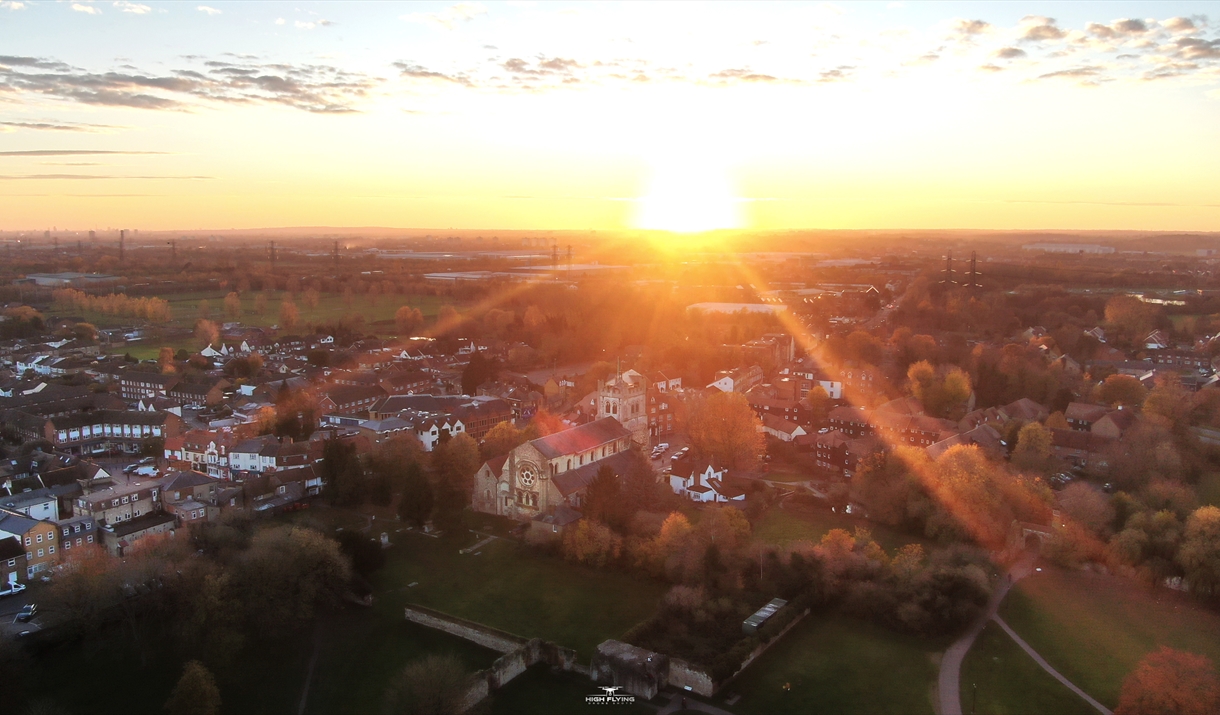 About
Waltham Abbey is a traditional market town steeped in history with Royal connections and an impressive church and abbey grounds at its centre. Its connections to King Harold, who founded the monastery and is reputedly buried in its grounds, are celebrated every year alongside a calendar of other festivals and events. Visitors are spoilt for choice with nearby attractions including Copped Hall, Lee Valley Park Farms and the Olympic White Water Centre. Part of the Epping Forest district, the town is surrounded on all sides by accessible countryside including nature reserves, parks and forest where a range of activities and attractions are available for all to enjoy.
The unique and traditional market town has 16th century timber-framed buildings and a fine 'Art Nouveau' Town Hall. It has associations with Royalty including King Harold, Henry II and Henry VIII and its market charter was granted by Richard the Lionheart. The town is also home to the Epping Forest District Museum.
The Royal Gunpowder Mills are a short walk from the town centre and a great place for families to explore the history of gunpowder and rockets. Also nearby, Copped Hall has historical connections with the first performance of Shakespeare's A Midsummer Night's Dream. Under restoration, this fine mid-18th Century mansion and its extensive gardens are open to the public.
Waltham Abbey sits alongside the Lee Valley Country Park with Gunpowder Park and Epping Forest on its doorstep. The surrounding countryside contains important habitat for birds and dragonflies and families will enjoy Lee Valley Park Farm offering a chance to learn about animals and enjoy a tractor and trailer ride. For those with more active interests, the Olympic White Water Centre sits just on the edge of town and the surrounding countryside offers fantastic opportunities for walking, cycling and horse riding.
Book Tickets
TripAdvisor
Map & Directions
Road Directions
Waltham Abbey is situated on the Essex border with Hertfordshire, along the eastern side of the River Lee and the Lee Valley just off junction 26 of the M25. It can also be reached via the A112 heading north from the North Circular Road and on the A121 either east from Waltham Cross or west from the Wake Arms roundabout in Epping Forest.
There is parking in the town and at the Abbey Gardens car park.
Public Transport Directions
The nearest station is Waltham Cross.
Buses operated by EOS (66) and Regal Busway (250/240) travel between Waltham Cross, Waltham Abbey, Loughton and Debden.
Buses operated by Arriva (251) travel between Waltham Abbey and Waltham Cross, Cheshunt and Flamstead End.
Waltham Cross bus station has connections to various other routes including into London via TfL.