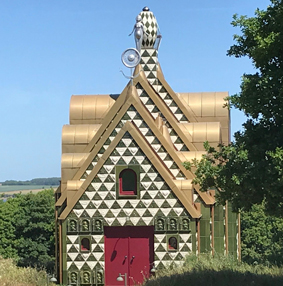 Did you know that there is so much art in Essex? There is an abundance of galleries, artworks by the famous John Constable of Dedham Vale which has since been dubbed "Constable Country", A House for Essex by Grayson Perry and even brand-new artwork as part of England's Creative Coast.
If you're looking for a day out filled with statues then we have got a few great spots to start you off with…

England's Creative Coast,
Shoeburyness, Southend-on-Sea,
22 May – 12 November
'Hello' and 'Retreat' by Katrina Palmer has taken the border between land and water as a bold inspiration to create two new pieces of art situated in Shoeburyness.
This two-part sculptural project is made up of a sound-mirror and a powder magazine that leads viewers into a short story supported by moving image work and an audio file that are accessed only via a QR on site. Palmer has stated that her artwork explores stories of Englishness and thwarted attempts to move forward.
To extend your visit to Shoeburyness why not take a visit to Gunners Park Nature Reserve and take in the wonderful wildlife on offer.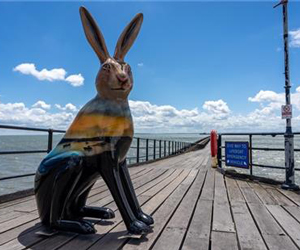 Hares About Town
All Around Southend,
July 1st until 12th September 2021
For 10 weeks over the summer, all around Southend on Sea, the seafront, Southend High Street all the way through to Priory Park, shall be filled with Hares for the fun filled Hare About Town trail!
These beautiful, rather large, Hare sculptures have each been individually designed by an artist and sponsored by a business. Some 50 Leverets, baby hares, have also been designed and created by over 40 schools and community groups! The Leverets will be hidden around Southend from the 14th June, if you fancy a day out spotting them first!
After the Hares have done their job in being spotted by eager eyes around town, the Hares About Town fun will continue as many of the sculptures will be auctioned to raise vital funds for a local charity, Havens Hospices on 28th September.

Octopus Ahoy
All Around Harwich, Tendring and wider Essex,
25th June to 5th September 2021
For 10 weeks, the Octopus Ahoy! sculptures will be placed across Harwich, Tendring and the wider Essex area to celebrate the Mayflower 400™️ project and 150 Years of Clacton to create a fun, free trail.
The art trail is made up of 30 4ft-by-4ft octopus sculptures and you can use the free Octopus Ahoy! App to help find them all! Every time you reach the octopus statues, you scan the QR code on the plinth of the sculpture, and you earn a prize!
There are also smaller 2ft-by-2ft octopus that can be found in the app that have been created by local schools and community groups which will become home to their octopus when the trail is over.
Whilst you're in Harwich, why not visit the Harwich Lifeboat Museum and the Harwich Maritime Museum to keep that nautical theme flowing!

Harlow Sculpture Town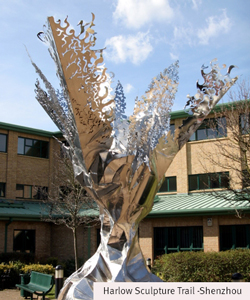 All Around Harlow,
Permanent
Did you know that our very own Harlow Town became the world's first 'Sculpture Town' back in 2010? Didn't think so!
The collection spaced around the town includes over 100 public sculptures with works by Henry Moore, Ralph Brown, Elisabeth Frink, William Mitchell, Barbara Hepworth, Auguste Rodin and author Nick Hornby. There are enough to keep you busy all day and you'll most certainly hit your step count.
If you're looking for other local attractions to make your day even more jam-packed visit The Gibberd Garden, created by Sir Frederick Gibberd who designed the garden in 1972 and added sculptures, ceramic pots and architectural salvage for twelve years until he passed away. There is also The Lock Climbing Wall which is part of Essex Outdoors if you fancy trying your hand at rock climbing on your day out!
We can't write 'An Artists Guide to Essex' without including a few art galleries so if visiting art galleries is more your kind of vibe, then why not give these a try…

Beecroft Art Gallery
The Jazz Centre UK, Southend-on-Sea
Tues - Sat 11am - 5pm
Beecroft Art Gallery collection ranges from 17th-century Dutch paintings to contemporary works and there are over 2000 works on display.
The vast collection includes art from local artist Alan Sorrell, a selection of the Thorpe Smith Collection which include local landscape views from as early as 1803, and of course, work from John Constable of Dedham Vale.
If you're interested in a bit of a stroll after taking in some amazing artwork, why not challenge yourself to complete the Southend Victoria to Leigh Railway Walk and take in the sights along the way.

Focal Point Gallery
Southend Central Library, Southend-on-Sea
Monday to Saturday 11.00am to 5.00pm + Sunday 11.00am to 4.00pm
If you're looking for some contemporary art that challenges how we think and feel about locality and our importance in our community then the Focal Point Gallery is somewhere that needs to be on your radar.
The Focal Point Gallery works on commissions and often presents major solo exhibitions and group shows which aims to inspire new audiences and engage the local communities.
You're bound to be hungry after your visit so why not try Sands by the Sea, The Britannia or Feelgoods to pick up some Fish & Chips to eat along the seafront.
Maybe picking up some art and crafts in Essex is more for you...

Dedham Art and Craft Centre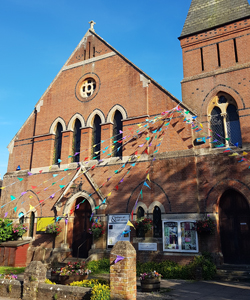 High Street, Dedham
Mon - Sun 10am - 5pm
Dedham is also known as Constable Country and Dedham Art & Craft Centre is situated right in the heart of it!
The Centre is housed in a converted church that is home to three floors filled with the work of more than 60 artisans including art, ceramics, glass, metal craft and woodwork. Labelled as 'a paradise to explore for the casual browser and enthusiastic shopper' we couldn't agree more.
After perusing the shelves and treating yourself to some new art for your home, why not stop by The Sun Inn for some dinner or even stay overnight at The Sun Inn's Accommodation. If you're feeling a little classic then book an Afternoon Tea at the Tiptree Tea Room at Essex Rose.
And if you want to fully immerse yourself in art then you best submit your name for the ballot to stay here...

A House for Essex
Wrabness, Manningtree
Now this is a really unique experience, staying inside a work of art! A House for Essex by Grayson Perry and FAT Architecture is a homage to the tradition of wayside and pilgrimage chapels along with the special character and unique qualities of Essex; a rather dashing combination.
With every room housing specially commissioned artworks and a library to Julie Cope; a fictional character created by Perry, an Essex everywoman, whose story he has told through two tapestries, and the most luxurious of Egyptian cotton bed linen and homewares, this is a one off stay!
And if you fancy leaving this stunning home for dinner, try Lucca Enoteca for a classic Italian meal in the High Street sat amongst exposed brickwork and beams.
Related
0 Comments